The Job
Munca in Danemarca la taiat de brazi
Number of workers:
5
Job Period:
From 2023-11-14 until 2023-12-05
Job Description:
Munca in Danemarca la taiat de brazi. Clientul nostru este in cautare unei echipe de 5 persoane cu experienta anterioara la taiat de brazi.
Munca zilnica consta in:
Recoltat brazi cu tractorul special;
Incarcat brazii in tubul special al utilajului;
Preluarea brazilor dupa ambalarea in plasa de protectie si organizarea lor pe paleti;
Alte munci spcifice in acest domeniu;
Munca se desfasoara in echipa astfel:
o persoana conduce si manevreaza tractorul;
3 persoane in fata utilajului ajuta sa centreze brazii in tubul tractorului;
o persoana primeste copacii dupa ce sunt trecuti prin lasa si ii stivuieste pe paletii din spatele tractorului.
Work location:
8963, Auning
Requirements:
Experienta anterioara pe tractorul special de recolta brazi pentru 2 persoane din echipa,
Permis de conducere pentru a conduce masina companie pentru o persoana din echipa.
Engleza la nivel conversational; minim 2 persoane din echipa
Experienta in lucrat la recoltat de brazi la  si munca in padure;
Dorinta de munca si disponibiltate de a lucra in padure.
The Salary:
140 DKK brutto pe ora (~18.77 euro brutto pe ora ) + 12,5% banii de vacanta; 
Se lucreaza de la 06:00 -18:00;
Compensatii de transport 220 euro de persoana.
Accommodation:
Cazare este oferita intr-o casa, contra cost si va fi de 600 DKK pe saptamana (~80,46 euro.)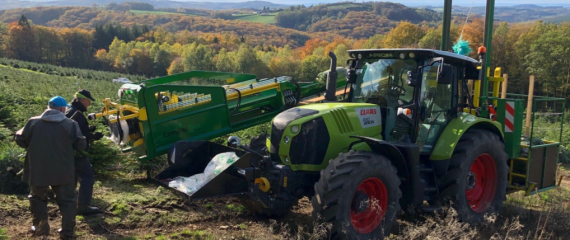 This job offer has expired